Intensive Care incubator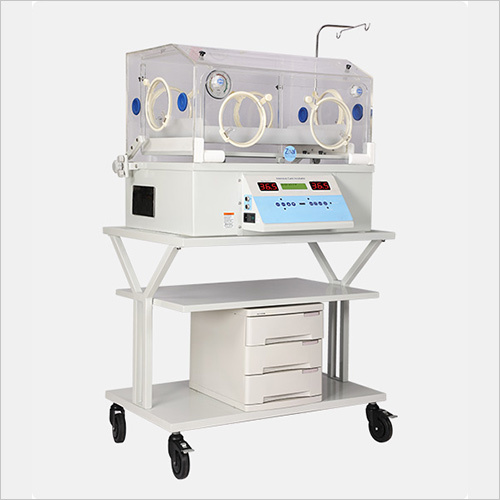 Intensive Care incubator
Product Description
An Isolated atmosphere for LBW and VLBW infants
Acrylic double walled canopy
Pull out Sliding Baby Tray
Transparent acrylic double walled canopy with front loading facility. It comprises of six elbow-operated port holes to allow access for baby care and treatment. Four Inlets are also provided for administration of O2, IV lines or Ventilator tubing.
Pull out Sliding Baby Tray
It has the front side pull out sliding baby tray, which conveniently helps to put a baby in a baby tray. It has X-Ray cassette sliding facility.
Head Up down Facility
Exterior manual gear alteration for baby bed head up down facility.
Ergonomic & Intuitive User Interface
Convenient-to-use and easy-to - read display helps the user to monitor baby improvements. Available in Skin Servo, Air and manual control modes.
Environmental Humidity Facility
Humidity chamber and humidity indicator are provided in the incubator. The use of environmental humidity assists to reduce Trans Epidermal Water Loss (TEWL), supports temperature regulation, fluid and electrolyte management and skin integrity.
IV Pole & Infusion rod
Provision of the stainless-steel IV pole for the mounting syringe pump, infusion pump & Stainless-Steel IV Stand .
Storage Facility
An open shelf is provided for an appropriate storage area. Three storage plastic drawer made of high impact polystyrene used for storing files, documents, records or other necessary essential items, is also supplied along with the incubator.