LED Phototherapy Unit Series 6000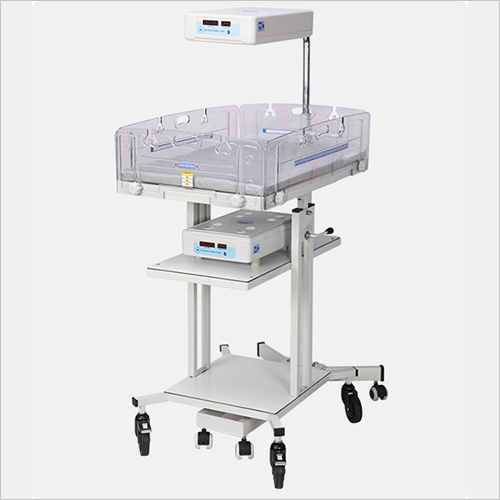 LED Phototherapy Unit Series 6000
Product Description
LED based photothrapy system
Robust photothreapy stand
Height adjustment facility
Dual digital Cumulative hour timer
Under surface light source
Robust Phototherapy Stand
Heavy-duty mobile stand phototherapy unit mounted on 2 castors. The light source consisting of a polycarbonate enclosure.
LED Light Source
Over surface source box consist of high intensity blue LEDs (12 nos.) used for therapeutic dose having a wavelength ranging between 455 nm to 465 nm. Whereas, under surface source box consist of high intensity blue LEDs (08 nos.)
Height Adjustment Facility
In Over surface phototherapy unit, light source box has height adjustment facility approx. 0.95 m to 1.5 m from the floor.
Swivel of Light box
Over surface phototherapy stand have light source box swiveling facility continuous up to 90 on both sides.
Effective Surface Area
Over surface phototherapy have an effective surface area 40 cm x 30 cm at a distance of 35 to 45 cm from light source with uniformity ratio >0.40. Its irradiance at skin level measures up to 62.5 W/cm2/nm.
Whereas in under surface phototherapy has irradiance at skin level measures up to 37.0 W/cm2/nm.
Dual Digital Timer
Dual digital cumulative hour timer for total LED usage and patient exposure. LED lamps rated to last up to 50,000 hrs.
Trendelenburg & Reverse Trendelenburg Facility
Baby bassinet have trendelenburg and reverse trendelenburg facility up to 12 on both sides.
Under surface light source
Light weight, easy-to-carry LED based under surface phototherapy box to deliver effective treatment of neonatal jaundice. It can be easily placed on the shelves of infant care trolley.
Low power consumption
High intensity, efficient lighting, more durable quality LED-based technology has become the first choice. The power consumption for over surface phototherapy unit is 55VA whereas the under-surface phototherapy contains 40VA
Overheat Protection
It has a built-in thermal protection. No matter the case, If the temperature inside the phototherapy gets reach around 90 C, total circuit gets cut-off from the main supply and the unit wont turn ON unless the inside temperature of phototherapy drops down.