Radiant Heat Warmer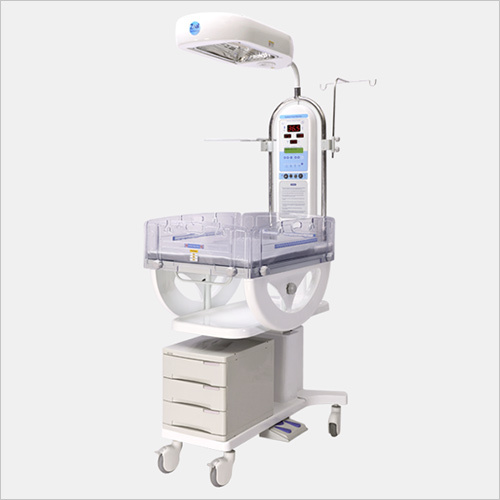 Radiant Heat Warmer
Product Description
Overview / Highlights
Smooth and Crevice free design
Ergonomic and Intuitive User Interface
Thermistor based temperature probes
Optional: Motorized jerk free height adjustment facility*
Multiple controlling modes
Infrared Ceramic Heating Element
Trendelenburg and Reverse Trendelenburg facility
Optional: T-Piece Resuscitator*
Powerful Microcontroller
Advance, Precise, Reliable & High-speed microcontroller helps to preserve a stable temperature environment for a newborn infant. Temperature is set at the desired level and the system efficiently delivers a constant heat output
Elegant Structure
In Series 4000,: Complete structure is enclosed with Fire retardant grade material
In Series 1100,:Only heater source box is enclosed with Fire retardant grade material and remaining body of epoxy coated MS Grade material
In Series 2100,: Complete structure is enclosed with epoxy coated MS Grade material
Multiple Control Modes
Skin Servo Mode, Air Mode, Manual Mode, Pre-Warm Mode
Ergonomic & Intuitive User Interface
Owing to the ergonomic nature, the control system can be conveniently seen and worked from a standing position. All configurations and associated monitoring values are visible. A large LCD and audible alarm would also notify if user interaction is required.
Thermistor based temperature probe
Thermistor probes are most accurate temperature probe with an accuracy of 0.2C from 0C to 50C
Calibration free device
The pre-loaded software on the device eliminates the process re-calibration of the temperature controller.
Infrared Ceramic Heater Element
Heater source consist of infrared Ceramic heater element of 650W placed in stainless steel parabolic reflector for even heat distribution on baby bed
Patient Safety Alarms
Clear Audio and Visual Alarm along with message on LCD Screen. Alarm includes Skin/Air high temperature, Skin/Air low temperature, Overheating, sensor failure, heater failure, power failure and check sensor position.
Trendelenburg & Reverse Trendelenburg Facility
Baby bassinet have trendelenburg and reverse trendelenburg facility up to 12 on both sides.
Swivel Heater Source
The facility of swiveling heater source box of 90, allows X-Ray procedures while the baby is placed on the cradle.
LED Observation Light
Angle adjustable 8W LED spotlight, used for observing the baby while doing procedures.
Optional: Height Adjustment Facility*
Electrically operated, motorized, and jerk free cradle height adjustment facility. Foot Pedal switches are provided on the equipment for an easy height adjustment.
Optional: T-Piece Resuscitator*
Facility of inbuilt T-Piece resuscitator in warmer. It is manually operated, gas powered resuscitator designed to provide breaths at a set flow which ensures adequate pressure delivery and oxygenation to the infants.