Smart Adult HFNC System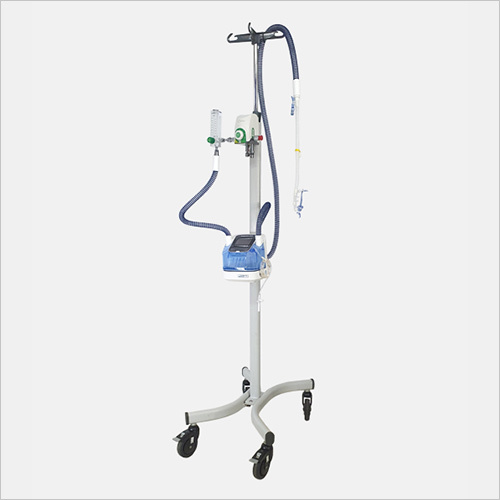 Smart Adult HFNC System
Product Description
Specification
OxyBlend Air/Oxygen Blender
Provides controlled FiO2 as per dial setting (21% to 100%). Need Air & Oxygen external source which should be connected to blender by two colour coded hose pipes for Air & Oxygen. It provides controlled single flowmeter with a range of 755 LPM, Accuracy 3%
Adult, Pediatric humidification
The HAMILTON-H900 humidifier provides active humidification for adults and pediatrics. A special breathing circuit set with a detachable, unheated extension allows for use in incubators.
Wall-heated, all-in-one breathing circuit sets
The breathing circuit sets for the HAMILTON-H900 humidifier integrate the heater wires into the circuit wall. This eliminates the cold interface between heated breathing gas and ambient temperatures and leads to significantly reduced condensation in the breathing circuit. This, in turn, ensures a consistently heated gas pathway to the patient, ensuring the desired temperature and set level of humidity is maintained.
Adjustable temperature and humidity settings
As every patient is different and environmental conditions vary, the HAMILTON-H900 humidifier allows for manual adjustment of the chamber exit temperature and the temperature gradient in the circuit. You can adapt the humidification therapy to suit the individual patient and surroundings. This ensures gas is delivered at the required rate of humidity and reduces the risk of condensation forming in the circuit.
Integrated Temperature Probe
The cable-free breathing circuit sets include an integrated temperature probe and electrical connections to save extra work.
One-handed operation
The breathing circuit can be installed with just one hand and incorporates the temperature probe and heater wires that connect automatically on installation. There are no extra cables to connect, and you simply need to slide the water chamber into the humidifier, connect the breathing circuit to the patient and connect a water source to the water chamber.
Preassembled and Ready to use
An innovation of the HAMILTON-H900 is that it comprises only two components: The wall-heated breathing circuit set and the humidifier base. This saves time and facilitates handling of the humidifier, as well as reducing the risk of contamination. The breathing circuit sets can be used for up to 28 days per patient.
Ergonomic and intuitive user interface
Due to the ergonomic design, the user interface can easily be seen and operated from a standing position. All settings and related monitoring values are visible without searching through menus. A large, high-contrast LCD display, bright alarm lamp, and audible alarm alert you if user interaction is required.
Automatic connection checks and water-level detection
The HAMILTON-H900 automatically checks each tube connection, as well as identifying the water chamber and circuit types. In addition, the humidifier automatically detects high and low water levels, and generates an alarm when it is running low on water. Ensuring the patient is ventilated with appropriate humidification protects the functionality of mucocilliary clearance
IV Stand
Easy to assemble, easy to clean, smooth surface I.V. Pole Set includes four hooks and a height adjustable locking mechanism. It is made up of polypropylene (PP) and polyamide (PA) with Flame retardant properties.