Transport Incubator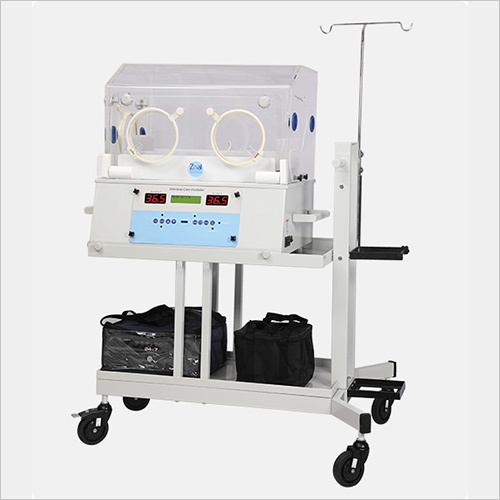 Transport Incubator
Product Description
Easy to transport & Portable Incubator
Acrylic walled canopy
Side Pull out Sliding Baby Tray
Ergonomic & Intuitive User Interface
Oxygenation facility
Battery backup facility
A portable and easy-to-carry incubator that carries babies from one location to another along with medical treatment and oxygenation support.
Acrylic Walled Canopy
Transparent acrylic walled canopy with side loading facility. It comprises of three elbow-operated port holes to allow access for baby care and treatment. Four Inlets are also provided for administration of O2, IV lines or Ventilator tubing.
Side Pull out Sliding Baby Tray
It has the Side pull out sliding baby tray, which conveniently helps to put a baby in a baby tray. It also facilitates resuscitation during transportation.
Ergonomic & Intuitive User Interface
Convenient-to-use and easy-to - read display helps the user to monitor baby improvements. Available in Skin Servo, Air and manual control modes.
IV Pole & Infusion rod
Provision of the stainless-steel IV pole for the mounting syringe pump, infusion pump & Stainless-Steel IV Stand.
Oxygenation Facility
Integrated support for 10 litres oxygen bottle.
Battery backup facility
Separate Invertor system is supplied along with transport incubator. External battery* (Ambulance battery or 12V 42AH dry sealed battery) when connected to invertor, converts DC battery voltage into AC voltage to run the system.