Z-Infuse pump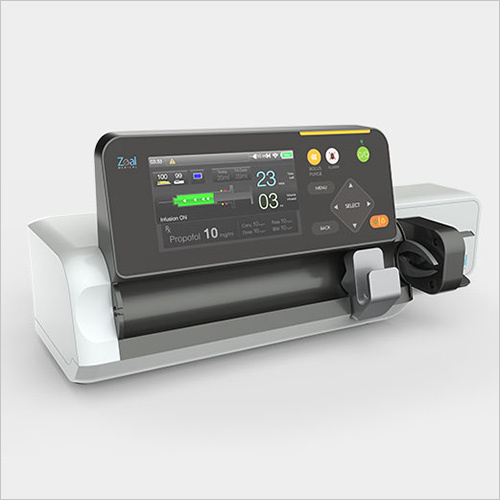 Z-Infuse pump
Product Description
Robust & Elegant design
Appealing LCD TFT Display
Automatic Syringe Detection Technology
Three distinct Modes
Incorporated with Central Monitoring System
Rate mode - Delivers a specified volume with a specified flow rate
Time mode - Delivers a specified volume within a specified time
Dose mode - Delivers a specified volume and flow rate which is determined by specified dose, drug mass, solution volume and patient weight
Ergonomic & Intuitive User Interface
Feather touch switches, LEDS on panel & eye pleasing TFT display which provides Informative images and messages along with intelligent audio-visual alarm system for better experience & understanding
Internal rechargeable Li-ion polymer battery provided with 06 hrs battery life. With intelligent battery management system, it protects the battery from over voltage, under voltage and short circuit.
(When Syringe Pump is fully charge with a flowrate of 25ml/h)
With one of the creative ideas in Syringe pump is to place drug library into its memory. A drug library is a list of drugs stored in the syringe pumps memory which is used as key part to prevent medication errors.
Automatic Syringe Detection Technology
A smart technology in the syringe pump, where it automatically detects the type of syringe is being used. It checks the syringe size and cross verify with input size selected by the user. It gives appropriate alarm if found some glitch in the syringe size
Central Monitoring System
Up to 100 syringe pump data can be monitored on single screen without entering into the patient ward. It will reduce interruption & cross contamination to the patient. On screen summery section is also provided to focus on the critical alarms only. Up to 1000 history records can be stored or can be review later & also can be taken into a pen drive.
An inbuilt Wi-Fi system allows real time data transfer for monitoring parameters and any critical alarms of all the patient to central management systems wirelessly.